I wanted to briefly introduce myself and write a little bit about what inspired me starting up "Off the Paved Road". I also want to thank Pinedale Online for sponsoring this site.

I was born and raised right here in Pinedale, Wyoming and have the best family and friends that any man could ever ask for. I have tried to live away from Pinedale for a short while but something seemed to draw me back and that is what I want to share with all of you. What is it that makes us want to live here and how can we preserve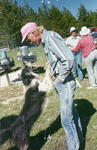 that?
My great granddad homesteaded in the upper Green River Valley in the mid 1800's. Since that time my family has grown and I often joke about being related to half of the county by blood and the other half by marriage. From the time I can remember I have either been on the back of a horse or the seat of the tractor. I have rarely ventured out into the "real world", so they call it, but have tested the water on occasion and have never found any grass that is greener on the other side. All of this time spent in Pinedale either ranching, hunting, fishing, or just being involved in numerous local activities has given me a deeper appreciation for the area and has allowed me to establish some very deep roots here.
Ranching is in my blood. Most of my family has either owned or managed a ranch in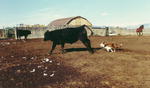 this valley. My folks have moved from Pinedale to Laramie, Wyoming where they own and operate Browns Creek Angus Ranch. I have my own passion for Black Angus cattle and have invested a great deal of time studying the breed over the years. Genetics are very interesting to me and through the use of Artificial Insemination and Embryology I have tapped into some of the best genetics available. I do my "cow thing" on the side with about 30 head of purebred Angus. Since taking on my new career as a Realtor I find the cows to be a little bit of my sanity outside of the office these days. There is no better time to get your mind organized for a long day at the office than the time I spend with my cows in the mornings.

Another aspect of my life that is very exciting is the fall hunting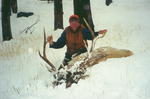 season and my adventures into the back country of the Wind River Mountains. This is a time to get away from it all. I have, for the past 9 years guided hunters in the fall and what a great bunch of guys I have met. I have come to realize that there is more to the hunt than pulling the trigger and pass this philosophy on to all of my clients. There are so many stories of close calls and should haves' that I wish I would have wrote them all down in a diary somewhere. At times through this web site I hope to pass on some of those stories.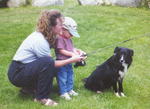 Life would not be complete without my family. I have a lovely wife, Andrea, and a very entertaining son, Clancy, who is 2 ½ years old. We keep ourselves busy whether it is taking care of the cows, visiting family, or working on our new house. I am sure there will come times when I can't help but mention something that happened on one of our adventures.
Although my life has lead me in many directions I have recently taken a strong hold in the Real Estate business. With my knowledge of the area and the ability to share my enthusiasm for living in such a great place, I am fast becoming a prominent Realtor in Sublette County. Ranches and vacant land are my forte but I never pass up the opportunity to slip in the door of some of our family style homes.
Want information about real estate in Pinedale?
E-mail me! jrogers@wyoming.com