The dust began to settle in the corral once again, and I could make out a new set of long ears in the moonlight. The mules were somewhat waspy it seemed and must have known that they were going to be put to work. It was an hour before daylight which gave us plenty of time to catch the remuda before it was light enough to start saddling up. 13, 14, or maybe even 15 head would get us up the mountain. Probably the latter since we would be loaded heavy with all of the float tubes and fishing gear, and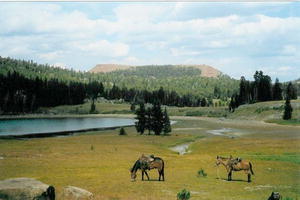 probably an extra half of a mule just to carry old Larry's bedroll and pillow. Well, it would not be long once we got headed up the trail, but we still had a few hours of preparation and then we would be off.
We were headed on a pack trip up into the "Winds" on a high country fly fishing expedition. The head count was eight, and it was going to take a good number of four legged critters to get us to the top. Our destination was any lake that was home to the exalted Golden trout. This trip had started off to be a payback to my Father-in law who had done an extensive amount of work on our home since we started construction, and I had promised him a fishing trip up in the high country with an open invitation to any of his friends. Larry, Vernon, Don, Charlie, Ron, Ben, Calvin and I were the fisherman for this trip and 15 head of mules and horses were our mode of transportation. Every man was in charge of a meal and the menu was planned with such fine entrees as T-Bone Steaks, Pork Chops and Spaghetti. The food list was not complete without a huge tub of Mrs. Ginger Bread's (Don's Wife) fine baked cookies of which I believe I ate more than my share of. All the grub was packed in two trucks and trailers along with 4 tents, Larry's new stove and oven, and all of the other important ingredients that we thought would make this a great trip.
The ascent up the mountain was underway and things had been running rather smoothly. Melvin the mule had even minded his manners as the greeny of the bunch and just stood there as we must have loaded nearly 100 lbs of sleeping paraphernalia for Larry. There must have been some pajamas in there somewhere but none the less I'll bet he slept very comfortable. 4 ½ hours later we arrived at Neal Lake where I was sure the fishing would be excellent even though we would have a short day ride to get to the Golden at Elbow Lake. Everyone pitched in to make camp so we could hit the lake before dark. Then we got the news. Elbow Lake was going to be postponed due to the bridge being replaced on Elbow Creek. The Forest Service had been courteous enough to stop in and check out our outfit and let us know about the situation. Lord knows we would have found a way to get across the creek but anyone who has spent time in this country knows that if the bridge is out at Elbow Creek there is no other way to get horses across the creek unless they can fly. The golden would be spared for this trip but it did take a little wind out of our sails as everyone had their heart set on this fine trophy. But fishing goes on and it was not long before we wet a few flies down at Neil and landed a few pan size. I guess the big ones were just holding out.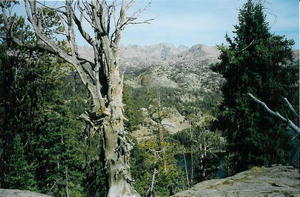 Day 2 came along and a few of us decided to head up to Heart and hook into some rainbows. The hike was not far but it sure seemed a lot farther when you have your waders, float tube, flippers, and day pack. Come to find out it certainly was not worth the hike either because the lake only produced 3 fish for the five determined fisherman who made the trip. Charlie and Ronnie talked themselves into heading back to get the pork chops out for the evening meal and Ben and I decided to hike on down to the outlet and pick Calvin up for an excursion down to Godfrey which was only minutes away. Some of you may know that I am a very amateur fisherman and that my Father-in-Law, Charlie, is a very seasoned fisherman. You may also know that when Charlie out fishes you, which happens on a regular bases, that he rubs it in a little. Well I am here to tell the world that on August 19, 2002 I slayed the fish on Godfrey Lake while my Father-in-Law took a nap in his tent. He may never admit to it but his good friend, Calvin, was there as my witness and did not do too shabby himself. It was a great afternoon and we must have caught over 60 fish in about 2 hours between three of us. One of those days I will remember for the rest of my life. It just so happened that when we made it back to camp for dinner that we had to go down to Neil Lake and show both Charlie and Larry the proper technique in catching Cutthroat Trout in the high mountain lakes. Days like that are all too short, but there were still two days left on the trip.

Please feel free to e-mail me or give me a call if you or anyone you know might be interested in opportunities here in Pinedale or just wanting to spend some time in the area. I am happy to make myself available to show you around our little town and probably even a little bit of off the paved road.
Want information about Pinedale and area real estate?
E-mail me: jrogers@wyoming.com
Or visit our Pinedale Properties Inc web site: www.pinedaleproperties.com
Want to know about hunting and fishing in Sublette County?
Visit our web site at Black Diamond Outfitting:
www.blackdiamondoutfitting.com