Part I: I Got the News!
It all began on October 2, 2001 at about 9:30 p.m.
My hunters and I had just rode into camp from a long day in the saddle, and my eyes were somewhat bugged out from all of the glassing we had done. It had been nothing like the day before when we had 3 different bulls breathing down our necks and firing back with their aggressive bugles without hesitation at my calls. We outsmarted one fine bull by nightfall, but today they had outsmarted us. I always say that a bad day of hunting is better than a good day at work so our heads were not hung low. Rather we were excitedly making plans for where we were going to head tomorrow, when I got the news.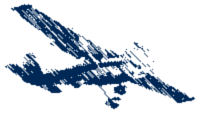 Terry walked up to me as I was unsaddling the horses and proceeded in a rather calm voice to explain that right at dusk there had been a plane fly over camp 4 times. On the 4th pass he had dropped what appeared to be a flashlight. Of course upon impact the flashlight could not be found because the bulb had exploded. But with much worry Terry had grabbed his cell phone and ran up on the highest rock next to camp and called home. There are a couple of things that worry outfitters the most. The first being a grizzly bear, and the second being flashlights dropped out of airplanes right over your camp. The good news was someone answered the phone and it just happened to be Jordan who is Terry's teenage boy. Now Jordan was way more interested in how hunting was since he envy's his father who spends 75% of his time in the mountains while Jordan is in school. Finally, Terry was able to cut to the chase with the question, "Is anything wrong at home?"
The response was, "Well, I think I overheard Mom talking with someone about Jamie's wife going into labor" and the phone went dead. Without another phone in camp he had waited until I arrived about an hour later to give me the news and ask if I had brought my phone to camp. Without much hesitation I ran up to the tent, grabbed my phone and hurried to the top of the calling rock. Without a very strong signal it took several times for a strong enough signal to get the call out, but on my 8th try at the 4th number I was able to reach my good friend Casey.
There was a terrible amount of static, and when I said who it was he hollered back, "If we get disconnected, just come out of the mountains tonight and straight to my house and I will wait up for you and tell you about everything."
"What was that?" I responded in disbelief.
"Come down now! I will see you at my house."
I got the news. It wasn't real clear to me what had happened yet, but I knew right then that it was going to be a long night and I was worried sick about what had happened. You see my wife was only 25 weeks along and not due until January 16th, 2002, and this was October 2, 2001. I was 4 ½ hours from the trailhead and that is in the daylight.
Well, I ran down the hill and told Terry that I wasn't sure what had happened, but that I needed to get off the mountain. There was one other dilemma, as if I didn't have enough to worry about, and that was the elk that we had harvested the day before. I had just caped it and quartered it and left it lying in the shade of a great big rock and a big tree. We had covered it with some pine bows and had planned to go pick it up tomorrow.
Now I have named certain places that I have hunted, "Bugger Basin", "Jamie's Jungle" or just "The Hole". Well, you see, we had gotten this elk in "The Big Park at the edge of Bugger Basin in the bottom of The Hole surrounded by Jamie's Jungle." The only thing that I could say was that I would try to get back in a couple of days to get my hunter's elk out because it was nearly impossible to tell someone how to make it back to this exact spot. This being the least of my worries, although by the look of my hunter's face I could tell it was a big concern of his, I headed out the door.

Part II: The Night Walk Out
My first thought as I stepped out the tent was to catch my horse and get off the mountain as fast as possible. Palomino Man (the name of my horse) had a less than desirable look on his face when I untied the halter rope and headed for the tack tent.
I'll bet you are wondering how I could see the expression on his face in the dark. Moonlight! The brightest moon you have ever seen. I don't know how many nights I have been out riding back to camp after the sun has gone down, but I cannot recall a night as bright as that one. As I continued to saddle up I just kept thinking things over and finally concluded that I could walk out of there faster than old Palomino Man could pack me. By the sound of his last groan, he was not at all excited about a midnight ride, and I on the other hand could probably dunk a basketball on an 11 foot basket with as much adrenaline as I had flowing. Case closed, and old Palomino was off the hook. I threw the saddle back in the tent and started down off the hill and into the meadow.
I advise every hunter I ever take to the hills to leave their billfold at the bottom of the mountain and, yep, you guessed it, I had to turn around and run back up to the tent to find mine. I had no idea of what was in store at the end of the night, but a good credit card could never hurt. Back down the hill and across the creek I went.
The first hill out of camp is called "High, Wild, and Tired" but I didn't miss a lick. By losing the weight of my backpack I was actually doing pretty good. The hardest part about walking out in the moonlight is all of the shadows that are cast on the ground which hinders a persons depth perception. Horses have excellent eyesight and rarely stumble in the dark, but not the case for me. With every misplaced foot I soon lost track of how many bags of carrots I was going to have to eat to get a job in next years dude string.
I have always enjoyed those nice quiet evening rides into camp with the stars so bright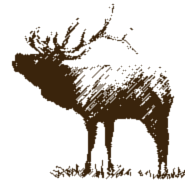 and the coyotes yipping in the background of complete silence. This night was a little different, and the sound of my breath echoing off of the brim of my hat was completely consuming the night. Thinking of the worst, I kept on marching.
An hour had lapsed as I passed Neal Lake and headed for Trapper. Thump! Crash! What was that? as I picked my head up from looking at the trail. Elk going everywhere! Wow, where are the hunters when you need one? "Onward!" I told myself, although the instinct of trying to get them to stop in the clearing with the sound of a bugle was hard to resist.
Just up the trail I ran into another herd and actually was within about 60 yards of a cow before she realized she had company. Boy, was she surprised when I whistled at her! I think if elk wore pants, she would have left hers right there as she pealed up the hill making tracks for cover.
She must have woke up some of the other 4-legged critters in the country, because as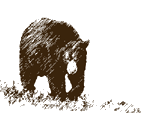 I rounded the next corner heading for Little Trapper there was a big black spot standing in the trail. Well, 'Big' may be a bit of an exaggeration, but in the night any bear looks large to me. All of the stories that you hear of ambulance rides and EMT's were going through my mind about then, but the only thing I could not figure out was how they were going to get that ambulance those 8 miles up the horse trail. Luckily, old Blacky decided to spare me and stumbled up off the trail allowing me free sailing on down to Long Park.
Another bunch of elk? "What a night!" I thought, as I had seen more elk in the last hour than in the previous 2 days of hunting. Now it was about time to break out the Pepsi that I had thrown in my pocket before I had headed out of the tent. My adrenaline was tapering out and I needed something to get me the rest of the way. A little sugar and caffeine couldn't possibly hurt.
With all of the excitement of elk crashing through the trees and bears stumbling up the trail you could say that I was just a little on the EDGE! Add a little caffeine, and then a RING!
"What in the world is that?"
I just about left my pants sitting back there. After another RING, and I realized what it was. I had left my cell phone turned on and what a pleasant surprise. It was Casey with a report from my wife. All was well! She was flown from the Jackson hospital to Salt Lake City with pre-term labor, but things were under control. The contractions had slowed down and thankfully the baby was doing well. The good Lord had been answering some prayers tonight, and it was a huge relief to know everyone was doing fine.
I made arrangements to have Casey meet me at the trailhead with my car so we could leave the trucks and trailers for the rest of the camp. By about 2:30 a.m. I was back to the house having visited with my wife on the phone and planning an early morning departure with her dad for Salt Lake City, Utah. It did not sound as if I would be back to camp for awhile, so I sat down at the dining room table and began to write down the News in a letter to Terry. Attached to the letter was a Map showing how to get to the elk, "at the edge of The Park", "in the bottom of The Hole", "surrounded by Jamie's Jungle". I just hoped that it would be found. After a couple of hours of shut eye the alarm rang reminding me of my new adventure, Salt Lake City. That whole story may some day be found at www.onthereallybusypavedroad.com, but for now I would just as soon spend my time off the paved road.
Til next time!
P.S. Our baby girl is not yet born, but she is keeping my wife on bed rest. My friend Tom picked up my note and map and headed up to camp to help Terry. They did find the elk two days later in excellent shape.
Thanks to everyone who helped us through this little episode and thank you for all your prayers.