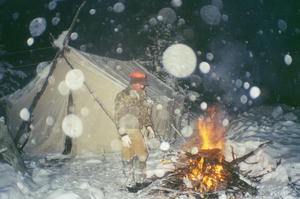 For as long as I can remember there have been two things for certain in this part of the country. Number one is that when it is 6:00 a.m. in Florida it is 4:00 a.m. in Wyoming (time to roll out of the sack and get horses saddled). Secondly, when you live at the foot of the Wind River Mountains it is always very cold at 4 o'clock in the morning during the fall hunting season.
This particular morning appeared to be no different than any other opening day of rifle season at the Star Lake Hunting camp. There had definitely been excitement in the air the night before with a new group of hunters in camp. Most of them had not even slept through the night in anticipation of an encounter with the once in a lifetime 6 point bull elk. As I recall there was not even a cloud in the sky that morning. To our disadvantage, the moon was so bright that the stars could barely be seen which meant that the elk would most likely be heading back to the timber before sun up.
I had made plans with "my hunter" the night before to get out of camp early so we could make it to park #11 by daylight (hunting guides are always possessive over their hunters until they miss a shot). Charles was a sport and when I wheeled old "Effie" in front of the log stump he was ready to go. In Charles' defense he would not have normally needed the stump to climb aboard his trusty mule but due to a freak accident in the cook tent the night before he had three cracked ribs. With a couple of ace bandages, and 3 or 4 Advil, we were off in pursuit of what I assured Charles would be the time of his life.
As we traveled along the edge of the lake I looked back often to check on Charles to see how his ribs were feeling and he assured me all was well. I have never had any cracked ribs myself, let alone while riding a mule, but I have a notion he was just too tired or cold to feel any pain.
As we approached the "deep crossing" I was well aware that shooting light was near. I decided to take a different route across the creek to avoid riding the trail into the long elbow shaped park that lay ahead. I had seen elk here before and decided to cross to the other side in an effort to stay up against the trees and to get a better view of the meadow without exposing ourselves. With the help of the heal of my boots old Smokey stepped right on across between the big granite boulders and lunged up the bank on the other side. I guess I can't blame Effie for not wanting to get her feet cold but what was about to happen next had everything to do with wishing you were in Florida at 6 o'clock in the morning instead of in the middle of Silver Creek at 4 a.m.
The old girl must have not had it all together that morning because not even her first step was a good one. With all of the commotion I glanced back to see the start of what was going to be a very COLD wreck. I am not sure if Charles ever had the desire to rodeo but ready or not here it came. Effie was trying to get her balance from a misplaced hoof and Charles was hanging on for dear life. Every time it looked like things were under control the big eared molly would stumble some more. There was not a flat spot to be found on any of the rocks and within seconds what started off to be great elk hunt became a great big Splash!
Now I told you that shooting light was very near but to "my very cold hunter" things could not have been brighter. His eyes were as big as the bottoms of Effie's feet and I could see those too. I jumped from my horse not knowing exactly what to do since both of them lay motionless between two big boulders. When I made it to the scene I was able to position myself on top of a rock to help Charles ease his leg out from under the mule and get to the bank. Just as I looked back to the scene of the accident I noticed the head of the big-eared victim going under the water. I raced back across the top of the rocks just in time to grab a hold of the headstall. Now I am sure a great number of you have seen the size of a mule's head, but I never imagined one weighing that much. With the amount of adrenaline pumping through my blood I could have probably put a Volkswagen bug on top of my shoulders, but it was all I could do to keep Effie's enormous head from sinking to the bottom of Silver Creek. I do not know what finally came over the girl, (I am sure it had nothing to do with me bent over screaming in her ear), but she finally floundered around enough to regain her footing. It didn't take her long to find the bank and we were finally all safe but definitely not sound.
To my surprise, we were all still in one piece with just a few bumps and bruises and at least three cracked ribs. Charles insisted that we tie up old Effie and continue our morning hunt a-foot. Within a couple of hours of walking I finally convinced Charles to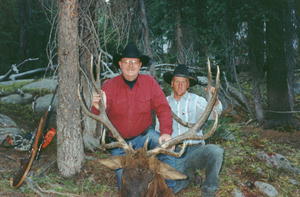 stop so we could build a fire and dry him out. He was quite a trooper and a very forgiving man because when we made it back to Effie that night he gave her a pat on the neck and climbed aboard with the help of a little bit taller log stump.
I will never know if there were elk in the meadow at the deep crossing that morning, but this is just one of the memories that can only come from life "off of the paved road".